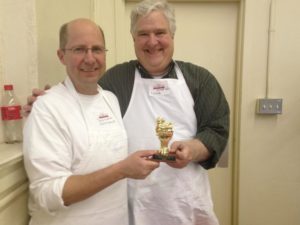 The Tres Hombres chili team took home first place in the "Meat Division" of the Saint Saviour's Chili Cook Off last Sunday, February 8, 2015. The team representing Christ Episcopal Church was made up of long time church members Lockhart Taylor, Tony Landi and Louis Wooten. Tres Hombres wowed the judges with a traditional beef based chili that incorporated three types of beans, corn and just enough chili powder and cayenne pepper to rouse your taste buds without blowing them away.
Tres Hombres competed against local churchs and faith based outreach programs including two time champion and perennial powerhouse St. Paul A.M.E. Church, White Memorial Presbyterian Church, St. Michaels Episcopal Church and Meals on Wheels. The winners were selected by a three judge panel comprised of learned professors from the Wake Technical Community College Culinary Arts program. In addition to the meat division, there were also categories for best vegetarian chili (like that's a "real" chili) and a "popular vote" category selected by a plurality of those attending the event.
This is the third year for the Chili Cookoff and the first year in which Christ Church has garnered gold. Tres Hombres team member Tony Landi stated during post award ceremony interviews: "We just wanted to show the rest of the chili eating world that when it comes to chili, Christ Church ain't messin' around." Louis Wooten added in "Yeah, take that St. Michaels!" When team member Lockhart Taylor (who was unable to attend the event due to family illness) was informed of the Tres Hombres' victory, he commented "You're kidding me . . . we won?" His humility is an example we can all hope to emulate.
All kidding aside, it was a fun event and raised money for St. Saviour's. For those of you not familiar with St. Saviour's, it is a community outreach ministry that addresses unmet needs of low-income residents of Raleigh and Wake County. Located at the corner of Tucker St. and Boylan Ave. in Raleigh, Saint Saviour's serves as a meeting place, an educational facility and a hub for programs that promote community health and well-being. Among the programs it offers are the Diaper Train (which provides diapers, baby wipes and children's books for families who cannot afford them) and the Healthy Living for Seniors Program (which provides classes, activities, counseling and spiritual support for older adults with few resources). Saint Saviour's is part of a larger network of more than 20 non-profit organizations dedicated to serving the poor, the elderly, the hungry and the homeless in Wake County. To learn more about Saint Saviour's and the wonderful work it is doing, please visit its website at http://www.saintsaviourcenter.org/index.html.
While the members of Tres Hombres have not decided whether they will defend their title next year, I would encourage all of you to be on the lookout for this event next spring and attend. Where else can you get all the chili you can eat along with a salad, cornbread, desert and drink all for $5.00 ($3.00 for kids under 8)? It's a great deal for a great cause, so try to keep it in mind next year.
Wooten and Landi bringing home the gold for Christ Church.