Raleigh Business Formation Lawyer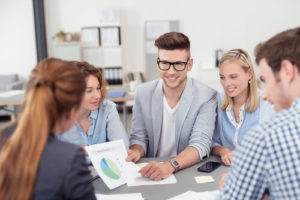 Burdensome rules and regulations should not prevent you from realizing your dream of starting your own business. At the same time, very real risks exist and make it vitally important that you start with a solid foundation as you launch a new enterprise. Sound advice and a well vetted plan will help ensure the financial success of your new business.
The Wooten Law Firm can help you analyze your needs and desires and structure every aspect of your new business in a way that is consistent with your goals. We can make sure you have the right legal entity for building the prosperous enterprise you envision.
Louis Wooten is a Martindale-Hubbell® AV-Rated attorney who has assisted large and small businesses in the Raleigh area with a variety of legal issues over the past 20-plus years. He has a thorough understanding of the hurdles businesses face in their early days and the steps to take to ensure they are not obstacles to growth. The Wooten Law Firm can provide your new business with practical guidance and strategies that will position you for success while avoiding legal stumbling blocks.
Ready to Prosper from the Start
Whether your new business is a startup or a revamped acquisition, sound decisions made at the outset can help ensure your newly formed business is poised for success.
The initial factors to be analyzed in new business formation include the correct business entity – limited liability company (LLC), S-corporation, partnership, joint venture, etc. – for your current needs and plans and the permits and/or licensing your specific business may be required to obtain.
Depending on your business, additional issues to be decided may include:
Ownership structure.
Funding issues.
Profit and loss allocations.
Liability and asset protection.
Tax law.
Insurance needs.
Rules and regulations that apply to your company or specific industry.
Administrative responsibilities.
Recruiting and hiring.
Human resources (personnel) management.
Contracting with vendors and employees.
It is crucial to have an experienced guide with you as you form a new business. Attorney Louis Wooten has the experience and insight to provide the legal guidance that can help ensure your new business is set up the way you envision without legal setbacks, delays or surprises.
Louis Wooten and the staff members of The Wooten Law Firm will listen to your needs and the desires you express for a new business before proceeding with analysis and planning on your behalf. From filing paperwork with the Secretary of State's office to drafting clear and effective documentation, setting up your business' tax profile and advising on corporate policies and mission statements, we will work alongside you toward your success.
Contact an Experienced Raleigh Business Formation Lawyer
If you are starting a new business or assuming control of an existing enterprise, The Wooten Law Firm can help you analyze your needs and goals, and establish a solid legal plan that ensures your business is ready to succeed for years to come without being hindered by avoidable legal problems.
Louis Wooten has helped new businesses in the Triangle get started on the right foot for more than 20 years. His decades of legal work span the breadth of business law and representation, including tax and estate planning, to guide growth and protect assets from one generation to the next.
Start your new business with the legal insight into your current and long-term needs that Raleigh business formation attorney Louis Wooten can provide. Call The Wooten Law Firm at 919.719.2727 for an initial meeting and consultation.