Raleigh Business Purchases and Sales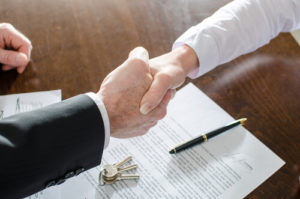 If you are considering a business purchase or sale, there are specific steps to take to ensure that the transaction positions you for success. Any businessperson set to make such an investment or sale will benefit from the advice and assistance of a seasoned business attorney who can keep an objective eye on the details, as well as on the big picture, of the transaction being made.
Louis Wooten and The Wooten Law Firm offer more than 20 years of experience assisting businesses and business people in the Raleigh area with a variety of legal issues. He understands and has deep experience in the due diligence, valuation, negotiation and contract development that go into a business purchase or sale. He has also assisted business people as they sell their companies at a fair price and at the proper terms.
Steps Toward Purchasing or Selling an Existing Business
If done correctly, buying an existing business is a means of avoiding high startup costs and organizational headaches, instead taking the helm of a profitable, functioning company. But there's more to it than writing a check and accepting the keys.
Assuming you have found a company that is ready to sell (or a buyer for your business), the steps to a business sale will likely include:
Due diligence. This is an investigation to examine the business' assets and liabilities, tax returns, recurring bills (utilities, lease, etc.) and other aspects of financial performance; compliance with zoning, environmental concerns, and/or licensing; sales records; contracts and employment agreements; and more.
Pricing. The value of a business can be analyzed in several ways, including a look at cash flow and how it will service debt or by weighing assets against liabilities. The initial concept for the business, existing customer base, goodwill, brand and intellectual property to be conveyed in the sale may also become part of a company's fair sale value. A buyer must consider these factors independently of the seller's assurances.
Negotiating. Particularly if there is a wide difference between the buyer's valuation of the business and the seller's, negotiations over a fair price and how it will be paid (asset sale, stock or partnership certificate sale, etc.) can be crucial to a deal.
Documentation. Once the sale of an existing business is agreed to, the parties will set down their transaction is such documents as a letter of intent, confidentiality agreement, promissory note, transmission of patents, trademarks and copyrights, non-compete covenant, a sales agreement and other documents, depending on the business and the form of the sale. These binding contracts must be precisely written in a manner that protects each party's interests.
Regardless of which side of the transaction you are on – buyer or seller – you can benefit from not only the assistance of someone who will do much of the legwork of a business purchase or sale, but also from the objective counsel of a third party whose job it is to protect your financial interests.
Louis Wooten and staff members of The Wooten Law Firm have the knowledge and experience necessary to recognize and address the wide range of legal issues that arise in the purchase or sale of an existing business. As your legal adviser in a business purchase or sale, Louis Wooten can help ensure that the background investigation, negotiations, agreement and filing of your business purchase progresses smoothly and with your best interests in mind every step of the way.
Contact an Experienced Raleigh Business Purchase and Sale Attorney
If you are buying or selling an existing business, The Wooten Law Firm can help you proceed in a professional manner that ensures no issues are overlooked and the resulting sales agreement is beneficial to seller and buyer.
Louis Wooten has helped Triangle entrepreneurs purchase and sell existing companies in the Raleigh area for more than 20 years. His decades of legal work span the breadth of business law representation, including business formation, development and ownership conveyance. Louis Wooten holds an AV Rating, the highest available from Martindale-Hubble®, the oldest and most trusted lawyer rating service in the United States. He is skilled in negotiations and developing a consensus that meets his clients' needs as well as the overriding business objectives of a transaction.
Buy or sell an existing business with the decades of experience and insight that Raleigh business lawyer Louis Wooten can provide. Contact The Wooten Law Firm at 919.719.2727 to set up a free initial consultation.